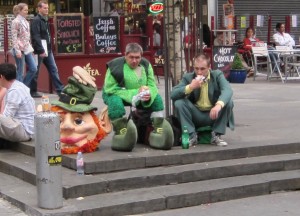 We are in Dublin for the weekend. Casper came home tired but well from the vet and we seem to have found a good petsitter, so we went ahead with our holiday weekend plans. We are being boring in the hotel room right now but overplanning makes us cranky, so down time is good. We tried to fight it out from laptops with online Battleship but couldn't get an interface that worked, so now I'm blogging and he's working on an invoice.
Pardon the repeat first picture there. I'm not smart enough to figure out the gallery feature on this site.
Gallery: First we have the dogs earlier this week, in a picture that should be captioned, "No, we didn't poop up here!"
The rest are Dublin pictures: a creepy statue with really long legs and huge feet. David finds Starbucks and is ecstatic (despite the way he doesn't look ecstatic). Then we have streets and shops of Dublin. Dinner: boxtys (boxties?) at Gallagher's Boxty House, which was a little touristy but they had vegetarian boxtys (kind of a potato pancake thing from the northern counties) and I'm just not likely to find those in most pubs. The food was really good.
On to "Why go Bald," another bunny ad, and finally David jaywalked without me while I was looking the other way and then there was too much traffic to join him. I took a picture of him way over there, abandoning me, but that crazy giant guy (we're calling him German) decided to be a ham as well.
We got into town in late afternoon, so mostly just wandered at St. Stephen's Green and into Temple Bar for dinner and drinks. Hopefully tomorrow will hold more specific tourist visits.