After being told we needed more evidence of our relationship to let David stay in Ireland, who officially ran past his passport stamp in mid-August, we had to come up with items of proof at least four years old (rather than the two years we were originally instructed). We took copies of emails from 2005 to the immigration Garda (police officer) last month in Bandon, who stamped them with her official mark and wrote on them that they were evidence of our relationship, but we still had to send the evidence to the Dublin offices.
What were the emails about? Oh, I helped him with a tangent when his calculator application wasn't working, and he called me a butthead in one of them, and various other quotidian remarks. But they looked really stupid when we had to submit them to a government immigration agency!
I was also able to request cell phone records showing that I called his number, but my cell company had been bought out in the meantime and I had to arrange manual retrieval of the old records which were then mailed to my home in Indy and then we had to get them here. I mailed all this stuff to Dublin with our case numbers and cover letters. THEN I found out from our relocation company who talked to the immigration Garda that the government immigration offices were on a 'go slow' order, which is like a strike where you show up for work but don't do a whole lot.
Magically, yesterday we received David's permission to remain letter, so he can go get a real stamp from the Garda and now we can actually travel. It has been really annoying not to be able to book any flights with him! It's too late to plan something for the upcoming long weekend but at least we can plan the rest of the year.
In the meantime, we bought a car, I'm home sick, and David is chasing Walter through the house with a pumpkin.
On Sunday I went to the Butter Museum in Cork, which turned out to be as dumb as it sounds. But I couldn't live here and not go to a place called a Butter Museum, could I? It was created about 15 years ago and since there apparently haven't been any amazing butter developments, the exhibits haven't been updated. The general documentary opened very seriously with "Ireland owes much to butter," which is true since they've been shipping butter out of Cork for centuries, but the film didn't really talk about that. Then I saw a bizarre marketing documentary from the sixties when they started shipping Irish butter abroad in the modern era, developing a brand appealing to housewives by talking about the pretty girls and happy cows in Ireland and that "the cheddar cheese that comes from Ireland matures to the sound of harps."
I'll save you the €4 admission: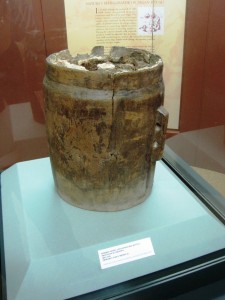 Butter found in a bog. They're not sure if it was put there to be preserved for the off season or as a pagan ritual.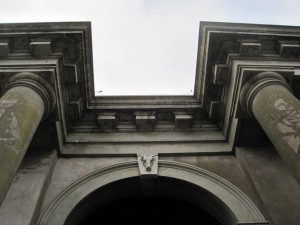 A cow marks the butter exchange building, big business back in the day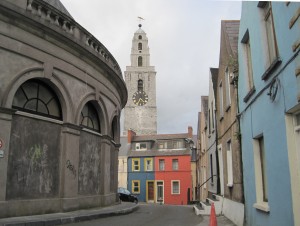 This part of Cork is known as Shandon. You can ring the bells in the church for a small fee