ongoing account of May trip to Spain
Concerned that I might not translate something properly and end up with a plate full of dead animals, and being someone who gets a huge kick out of vegetarian restaurants, I checked online before I left for possible dining options. What a great move–the food afforded me a chance to try new dishes without the worry of my bad Spanish questions getting in the way. I started with sangria and just ordered whatever else sounded interesting!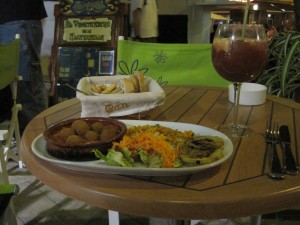 Some American women at the next table seemed to be having trouble describing a dish to the server, so I tried to help with my phrase book. Pretty soon they had invited me to dine with them and we had a lovely late dinner discussing what brought us to that part of the world. They were from Chicago and were in Spain to manage some property left by a relative who had died. I don't remember their names, but I think the mother had grown up in Europe somewhere (Poland?) and had an accent, and the daughter was an artist. They were at the vegetarian restaurant because they had been ill from the food in Spain and had even been in the hospital, and a doctor had recommended they not eat animal products for awhile to see if they'd recover more comfortably.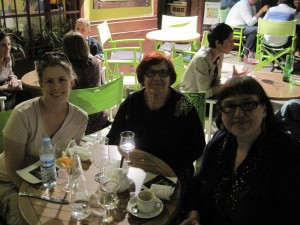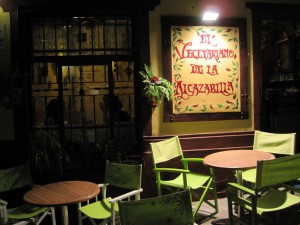 It's not like me to hang out with strangers, but it was fun to do it this time. We also managed to mingle with some locals on the way back to our hotels. They were having a celebration to raise money for their Semana Santa thrones/floats (more on that in a later post), and now I think I'm in a whole lot of other people's pictures!
The bats or birds were plentiful above the cathedral on the way back to our rooms.