We brought home Emmy a few days ago!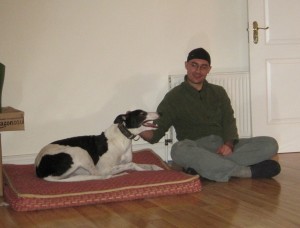 She came from Orchard Greyhound Sanctuary in County Offaly. David and I visited a few weeks ago and we went back with Walter this weekend to see who he liked. Turns out he didn't care too much so we got to pick!
More info on Emmy's page at rescue website
She is a bit shy but definitely has a silly side showing. She has claimed the honking octopus toy and carries it to whichever bed she decides to use–often hogging most of the couch! She likes David best and performs well as a footwarmer under his desk. Walter and Emmy are pretty much ignoring each other (which beats fighting) and I hope they will play together as they get to know each other. She will be three (two? trying to figure out this tattoo registry stuff) on December 1 and supposedly was given the racing name Coolarne Chancer, though I don't think she ever raced. David keeps trying to call her Coolio but I have to put an end to that. While Emmy is a cute name, it's awfully close to my own! Not sure if we'll keep it.
After the first day she's following me around too so at least she doesn't only like David. She is a very sweet dog.
I felt it was time to have a new friend for Walter, but Casper's ghost stays close in my mind. That made it hard to bring home Emmy. I'm sure we'll develop a lovely relationship but I feel like I'm betraying "my" dog a little right now. Maybe Emmy honking the octopus is channeling when Casper played with it too.