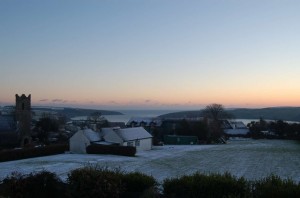 The lovely snow and winter harbor from our balcony
We were supposed to fly to Vienna today, but London Gatwick is closed due to snow so our flights were canceled and I went to work instead. Bummer! We're trying to salvage the second half of the trip by flying on Saturday to Prague, but who knows what the weather will be doing. Let's hope whatever it's doing it won't do it in Manchester.
Emmy stole a tub of butter tonight. Two nights ago she swiped a roll of paper towels and thoroughly enjoyed unrolling and tearing the sheets. Yesterday was her third birthday and I don't think she stole anything!