I spent all my money to go to the UK...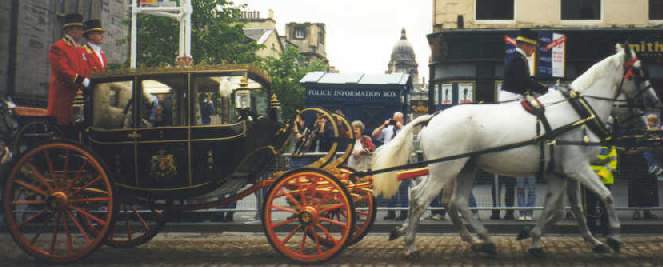 That is a picture I actually took of the Queen of England in her carriage as she paraded down, or rather up, the Royal Mile in Edinburgh, Scotland. I realize you can't make out her features but I swear it's her. There were also other carriages and cars and bagpipers in the parade. I apologize for the picture quality but my little cheap camera and Liz and I just happened to be in the right place at the right time. We felt pretty lucky, even if the whole royalty thing is a little silly.
Speaking of my camera, a guy on the subway stole it out of my bag but I demanded it back and during his escape he got stuck in the closing subway doors. Then Liz broke the camera in France I think. At least I got the pictures. The camera wasn't meant to make it home to America.
Liz and Amy meet, despite a missed ferry and a late plane... The first thing I saw in Heathrow was a sign wishing me a happy 4th of July and a Baskin Robbins. I secured expensive but clean hostel lodgings and did find Liz in Liverpool Street Station. From that point on we pretended to know what we were doing on the Tube. I was annoyed that there weren't any trash cans in any public places. We asked a custodian about this and it was confirmed there are too many bombs to worry about litter.
All of these pictures came from my camera, so if you represent the London Tourist Board or something along those lines, don't try to sue me or close my page, etc. I don't have any money anyway and I can find server space anywhere.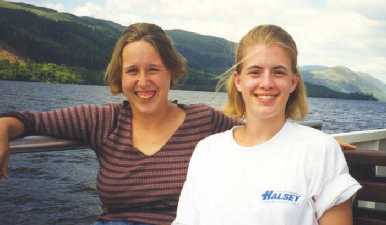 Liz, thanks for putting up with me on Loch Ness and everywhere else. Sorry about that rat trap hostel we stayed in the last night....
London
London Bridge, except I think they call it something else
Liz and I and a Beefeater at the Tower of London
Liz likes horses, especially the ones that belong to the Queen's Life Guard
Liz and I in Trafalgar Square
Statue to Queen Victoria outside of Buckingham Palace

Bath

Pulteney Bridge. The street on the bridge has buildings on each side so you can't tell you're on a bridge at all.
The Roman Baths. This was a really neat place.

Warwick

Liz and I in the Peacock Garden. Everyone laughed at me when I said there were real peacocks here, but all we saw were hedges trimmed to look like them. Right when I felt stupid a real peacock wandered past.
Warwick Castle. There sure are a lot of castles to see in the UK. This one had a torture chamber. The boots with spikes looked most painful.

Stratford-Upon-Avon

The River Avon. People were boating here. We saw Shakespeare's home and also Othello at the Royal Shakespeare Theater.

Scotland

Driving into the highlands
I think this guy made a lot of money that day
Liz and I went on a "literary pub crawl" in Edinburgh. I think this was one of our favorite parts of the trip.
Loch Ness from the boat

Windsor Castle

Liz made sure I got a picture of the Beefeaters marching. We missed the changing of the guard at Buckingham Palace but made up for it by seeing the Queen herself.
[ Home ] [ Up ] [ I have a passport ] [ Amy's Rowing Page ] [ newhouse ]
I last messed with this page on November 21, 1999. Haha, Notre Dame and IU both lost yesterday.