It's still me. I'm just fiddling around with some new themes now that my tech support-server guy also happens to be my stranded houseguest. There will probably be some broken former links externally now that comments and such have a slightly different path, but going forward all will work, AND you can just type in deitchley.com without that /blog stuff and get right to the blogging part. You can even do it the old way and it will redirect. Let me know if anything is screwed up (and no, I didn't check it on Internet Explorer).
---
Easter weekend was a 'bank holiday' weekend, where everyone has Monday (Dyngus Day at home) off and many people had Good Friday off as well. I typed Killarney in my GPS on Saturday and left County Cork for the first time, traveling west to County Kerry.
First stop: Gap of Dunloe, a road that passes between the mountains. It's a popular tourist draw so they close the road to cars in the summer and instead you hire a guy to drive you in a horse cart through the area. It was open when I was there but the signs encourage that cars are to be limited, so I decided on a walk.
The road was paved and there were a few cars coming through, but several other people were walking as well. This area was as stunning as Ballycotton cliffs, though without the ocean. I guess you can take a boat through some of the lakes, though.
Gray skies were mostly dry at first, and then it poured rain as I passed the sheep on the hillsides and a couple of horses. I stayed dry on top thanks to the waterproof red coat you will be noticing as a theme in my travels, but eventually my jeans were pretty wet. A lot of people wear rain pants around here and I can see why! It rained every day for three weeks but it has been sunny lately. Even rainy days have sunny parts and I don't mind it, but I do like to plan (and now own rain pants too). Anyway, the stiff cold wind through the higher parts of the pass dried my pants quickly.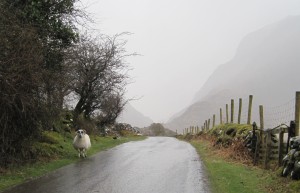 I saw newborn lambs, still with umbilical cords dangling. One was hopping around near mama who was grazing, but the other lamb was off to the side, crying out repeatedly. Since he was standing and making a lot of noise I hoped he'd find her and be ok. Except on my way back an hour later, he was lying still in the grass, far from his mama. 🙁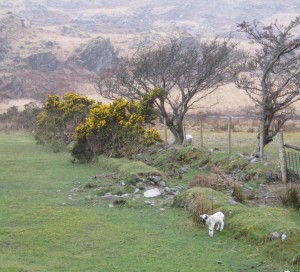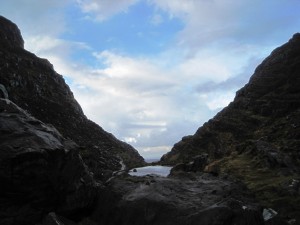 By the time I got back to my car I was numb and it was dark, so I was glad to get to my hotel and take a shower and grab some dinner. The town was hopping, largely with young people (I guess I no longer count myself in that group!). It was cold but the girls wore no coats and may as well have not been wearing skirts, they were so short. I tried to get cash from an ATM but the kids were piled up twenty deep to do the same, so I came back the next day and the ATM was out of money!
Up next: day 2 in Killarney.