Just after college, my first trip abroad (wait, I think I also drove to a Windsor casino from Detroit one night?) was to meet my friend Liz in London. It was a fabulous trip, and there is even evidence from my website in 1999! Holy crap.
My friend Nicole was staying near London a couple weeks ago on business, and she invited me to join her for a few days in the city. It's barely more than an hour flight from Cork to London, so off I went to stay with her in this fancy hotel/spa place. There is secretly a newer, uglier part to this facility, though, so it wasn't exactly resort-like for us–just comfortable.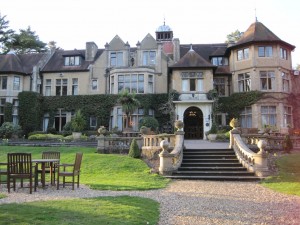 While Nicole earned a living on Thursday, I took the Tube from Heathrow and explored London a bit on my own. The London Eye didn't exist when I was there last, so I took an expensive trip in the giant Ferris wheel over the city. I booked online ahead of time, paying extra to skip the line. As Dad says, you can't put a price on a good time, and that includes not wasting time when there are smarter ways to travel! I probably wouldn't go on it again, but it's one of those tourist things you should do once. After I got home, David told me he saw a show about how it was only designed to last five years and it's already been ten, so maybe it's not one of those tourist things you should do after all.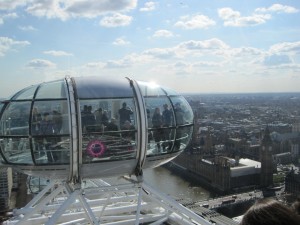 I wandered the shore of the Thames near the Eye and found a neat cafeteria at Southbank Centre with a great eggplant aubergine stew for a late lunch. The weather was gorgeous and I sat out on the terrace with hundreds of others who were enjoying a drink in the sunshine.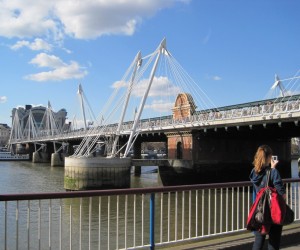 Later, I found Waterloo train station and bought a quick ticket for Camberley since the train was about to leave, and I wasn't quite sure it was the right stop, but I knew it would get me close. The train ride was about an hour, I think (during which I giggled at every stop since they kept announcing the end of the line very clearly as Cockfosters, even funnier with the accent), and I found a taxi to get me to the hotel, beating Nicole there by about a half hour. We wandered into town for a tapas dinner and then a drink at a karaoke bar. The English singers weren't very impressive; drunkenness is pretty universal.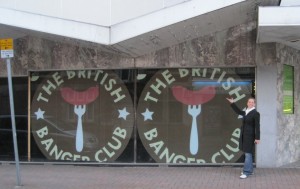 We stumbled home and slept in without an alarm. The plan for this trip was to head into London and figure it out as we went! We armed ourselves with toasted cheese sandwiches for the train ride, picked up some maps, and went to the British Museum. I hadn't been there before and wished we had more time. I didn't even know the Rosetta Stone was there and missed it! The collection was pretty amazing, but I kept wondering about all the colonialism and plundering that probably gathered half of it.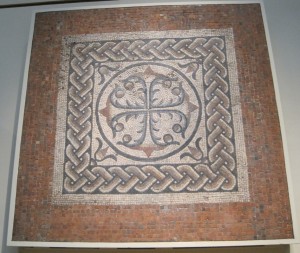 I had gathered info on vegetarian restaurants from Happycow.net, which was not only a tasty move, but gave us places to find and therefore took us down streets that we wouldn't have otherwise traveled. First up was an all-veg Thai/Chinese buffet with many choices, both hot and cold, fake meats and already-meatless dishes. I get overwhelmed when I can choose anything on the menu; it's rare to have more than a pasta choice wherever I go. The excitement was doubled since Nicole was just as excited about the food choice as I was.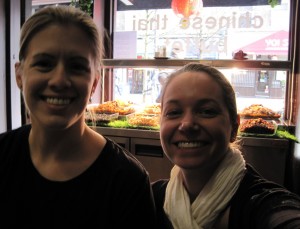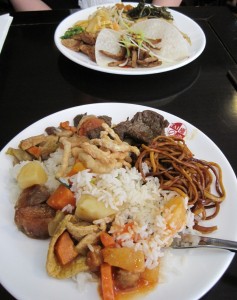 We wandered through daffodil-filled Green Park and had gelato across the street from Buckingham Palace. I was impressed by the number of transport cyclists in the park (and the number of clueless pedestrians who wandered right into the cycling paths). We remarked on how many people wore red shoes. I also lost and found my glasses, and then we happened upon the changing of the guard at the palace, which made us laugh because they were very serious about whatever was on that clipboard. We made up voiceovers to illustrate what was happening, but I'm afraid I don't recall the soap opera now.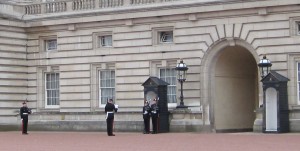 We wandered some more and planned a tour for later, but killed time first near Westminster Abbey. Most sightseeing places were closed by now.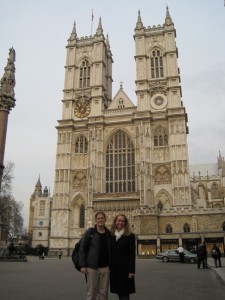 After a pay-to-pee stop where I also picked up minty plastic chewable toothbrushes from a gumball machine in the loo, Nicole suggested stocking up for our multi-hour night bus tour of the city, which meant booze and snacks (the little bottle of Jack isn't even in the picture!).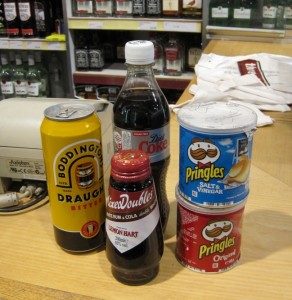 There were only two other passengers, who had taken the two front seats of the top of the double decker bus, but we took other seats up top and listened to the rather biased commentary as we rode around the city. It was nice to get a sense of what all was there (since we hadn't visited in years) and it helped us find things the next day, too. The tour was a good lazy choice at a time when there wasn't much else to do but eat or go to a show.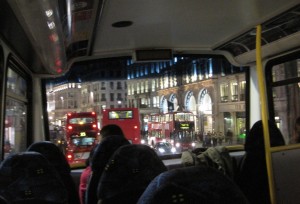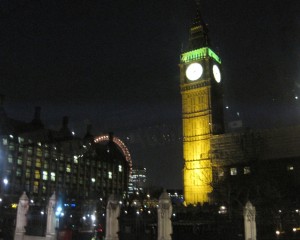 Time for another veg restaurant, this time in Soho! The street was hopping with bar and show-goers. We had fabulous food at Zilli Green, just in time for a guilt trip about my use of ice cubes before they closed.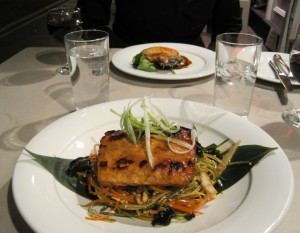 I'll wrap up this day with a poster I liked in the Subway: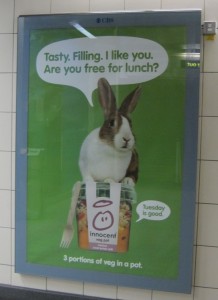 As usual, more pics at Flickr