Many hotels include breakfast here whether you want it or not; the quoted price is just what it is. Of course when you pay the bill, you see it line-itemed for €20. VAT is line-itemed too, but at least you don't get hefty surprise taxes like when you get a room in the States. The continental breakfast selection is ok if you like cereal, soda bread, jam, and cheese, and you can order hot foods as well, but the cost is the same either way on the checkout bill. They always offer a full Irish breakfast, which has a lot of nasty things like black and white pudding along with multiple boiled-looking meats. Anyway, I tried for scrambled eggs at a couple hotels. Both places made them all mushy and perched on a piece of bread, I think to soak up the sogginess. Not recommended. Also the pepper here sucks.
After my hearty breakfast at the Killarney Royal (a nice enough place but the free WiFi was slow as shit when you could even get connected, and only one channel worked on the TV, which I think was why they left a putter and golf ball in the room and even a phone next to the toilet for something to do while you waited), I wandered Killarney a bit and dropped off my bag at my car, where I got lucky with free parking since it was a Sunday (that would be April 4–I'm behind on reports).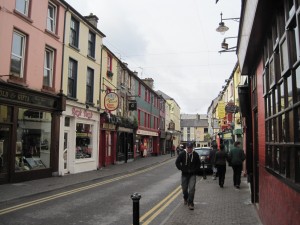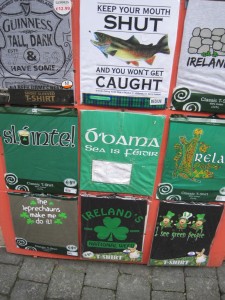 "Yes we can" in Gaelic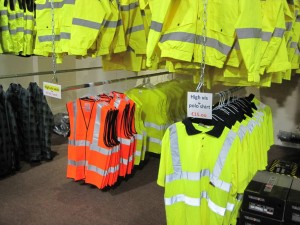 I found an outlet mall, which was great for a couple items I've had a hard time finding. I should mention that lots of people walk in the road, often wearing hi-vis vests and jackets because there aren't any sidewalks in the country and you may as well try to stand a chance against cars. I even picked up a vest at the co-op near my house because I can see how it might help when walking the dogs or biking to work. Anyway, this army-navy store had quite the selection, and I found it funny that someone bothered to make a hi-vis polo shirt. Does the collar make it classier?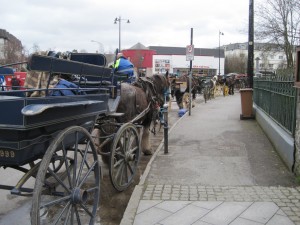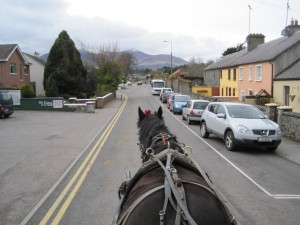 Since I had walked so many miles the night before at the Gap of Dunloe, I opted for a carriage ride into Killarney National Park to see Ross Castle. Lots of horses and drivers are waiting to take passengers, and I hoped Paddy the horse wouldn't mind me since I was only one person. I told the driver to be nice to him…
The driver kept telling me to pose for pictures.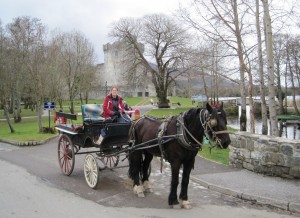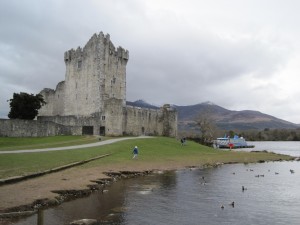 Ross Castle. I wandered the grounds, but I didn't pay to go in because this area is a likely re-visit with family later.
I grabbed some lunch when I got back into the town center, and then drove to another part of the national park.


Muckross Estate reminds me of Biltmore, though again I didn't pay to go in. It was a little early for the extensive gardens to be blooming, and the cold wind and drizzle weren't pleasant but by now I had a bucket-style rain hat that improved my Irish travels. I walked to Torc waterfall next. The park is large and a bike would be a great way to get around; there are many for rent hire, and I think horse carts jaunting cars are popular too on warmer days.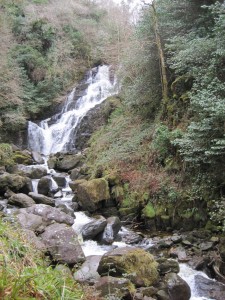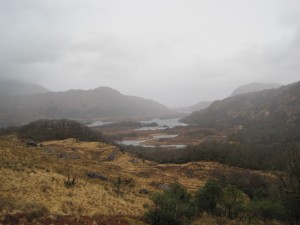 Ladies View in the mist. I think this is the other end of the Gap of Dunloe area from the day before
I headed for the Ring of Kerry, intending to drive only part of it based on the late time of day, weather, and the fact that I was traveling it kind of backwards. The Ring is a driving route along the southwest coast of Ireland with scenic views over the ocean and mountains. The narrow road dictates that buses may only travel counterclockwise anticlockwise. I started the other way and went through the funny-named town of Sneem, going as far as Caherdaniel. By then it was pouring rain, my main camera's battery died, and I was too tired to navigate the twisty road anymore. I headed home knowing that we'll likely be back, and I can see taking a tour bus where I could relax, get out for pictures at the best spots, and Mom could have a bathroom on board being a good plan.

I've pointed out this funny angry-car sign before, and it appears someone else finds it funny enough to remove a letter! The roads along the Ring of Kerry can get very twisty and difficult to drive, but the speed limit signs in general give the limit for that type of road in the best conditions, not necessarily what the limit should be in that particular location. I saw a 100 km/h sign in the worst part that someone had painted over to read 10 km/h, which was about right.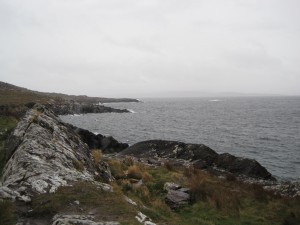 Teaser shot along the Ring of Kerry
Next: London pictures, plus I'm leaving the country again this weekend!