David and I watched the Eurovision finals Saturday night, which has been a song contest among European-television-area countries since 1956. It includes Israel and north African countries are eligible too. I guess I'd call it an American Idol/Superbowl combo in popularity. ABBA won in 1974 with Waterloo.
The broadcast we watched was voiced-over by a British guy, who actually talked over the hosts on the screen and everyone else quite frequently. This made the show pretty funny because he made sarcastic comments on a lot of the performances and the voting.
It turned into a geography lesson for us too, because we looked up all the countries we weren't sure we could find (like Moldova and Armenia) on Google Maps.
Some highlights (the snarky Brit's comments are in italics):
There were 25 finalists in this show, but other countries had been ruled out in previous shows. Spain drew second place for order of performance.
No one has ever won from second place. I see no reason why that should change tonight.
Spain's performance was interrupted by a Catalan guy who sneaked in (apparently he does this a lot) and actually made the performance much better before security got him off the stage. The Spanish singer looked like Screech/Richard Simmons and had people dressed as toys dancing with him, plus a backup Screech guy appeared toward the end, who we thought was an interrupter too but was actually supposed to be there. Because of the interruption, they got to perform again at the end, to which the host commented during voting, They performed twice. Doesn't seem to have helped.
On one of the onstage hosts: Nadia's back for no good reason.
There was a jumping and spinning neon fiddle freak and a sax player from the 80s in the general freakshow that came from Moldova.
David on Belarus' golden butterfly lady's hair: "There was a semen accident," a la Something about Mary.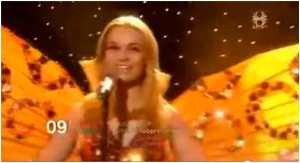 On Niamh from Ireland, who won previously: No one has ever won wearing purple
David noted that Booger from Revenge of the Nerds made an appearance in the Albanian performance.

Turkey had a Robocop guy.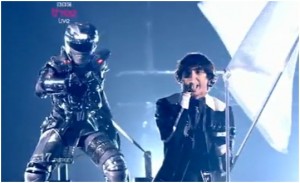 Steve Buscemi was in the Russian gig.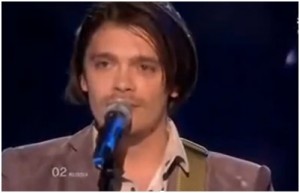 Armenia reminded me of the Stonehenge performance in Spinal Tap and was probably weirdest overall. Then I saw Moldova again.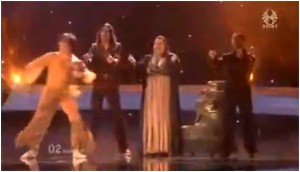 On the appearance of another stage host: Now this looks like it's going to be lame
Most countries sang in English, but I guess the rules have changed over the years about what languages are allowed (official languages of the entrants, artificial languages, etc). There were a lot of fake wind and fire swamp effects.
David thought the Denmark guy looked like MacGyver or Luke Skywalker.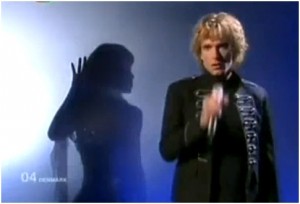 Each country has judge voting and call-in voting, and gets to give points to their top ten entries. Each country's vote would show up on screen like "22 of 39 countries voting." Viewers can't vote for their own country. It's like the electoral college or something.
The representative reporting Poland's results was a little awkward on satellite, saying, "And here are the votes from the Polish people. In Poland." She was also being a little slow in her reporting. The voiceover host:
That's where Polish people are from.
In your own time.
Niamh, the Irish entry, had won about ten years ago but did pretty badly in the voting last night. However, the UK did worse and the host guy wasn't too thrilled about that. In fact the UK came in dead last. As Ireland continued to get a point here and there, Ireland: they're getting a drip feed of points. They seem to have stopped for the moment.
On the French vote reporter from satellite view in Paris:
The Eiffel Tower again? Build something else famous.
Latvia's vote reporter was apparently a previous competitor and mentioned it. I want that jacket. Oh let go of the past, Thomas. Latvian reporter: "I hear some applause, that's good." Rare for you I suppose.
On Belarus' Olympian vote reporter: He's better at skiing than presenting votes.
There was a lot of booing for Russia when they got votes from other countries.
The British vote presenter said, "Thanks for voting for us if you did." Host: You're not thanking very many people there, Scott.
When Israel presented their votes: And I did notice, nothing for Germany.
Ukraine have 108 points and we have 10. There's something wrong.
In the end, Germany won by quite a bit. I'm glad we watched it but I think there may have been some Irish presentation of it that we missed. We enjoyed the British guy's snark. The Norwegian broadcaster that hosted the event (because their performer won last year) sold their rights to the World Cup, a big deal over here, to be able to afford hosting the event. And I shall leave you with the German performance, a catchy song I like:
And a general picture gallery