On our second day in Dublin, we paid for a hop-on hop-off tour and used it to get around a bit. First stop was Trinity College Dublin to see the Book of Kells, an illustrated gospel from around the year 800. No pictures were allowed inside, but you can see a couple and get more info at Wikipedia.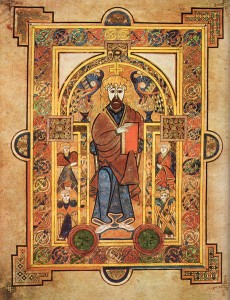 The anteroom to the book itself gives information about how it was made and what various symbols mean, plus sheds light on historical events connecting to the creation of such a book. By the time you get to the book itself, you're expecting something larger, but it is beautiful and detailed. We were fortunate that the crowds weren't excessive and we could spend a couple minutes looking at it. Upstairs, the old library is just as fascinating.
Next up: lunch!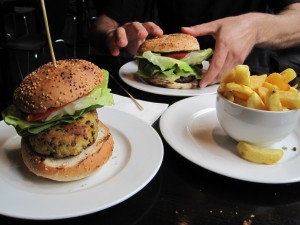 After lunch we headed for Guinness Brewery, which lived up to its touristy presentation, but it would be rather silly to live in Ireland for a year and not go there.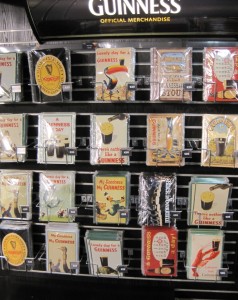 The symbolic harp at Guinness looks very similar to one in the library at Trinity

David checks out the coopers' tools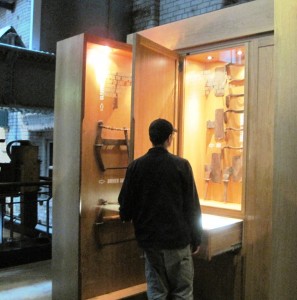 From the Gravity Bar on the top floor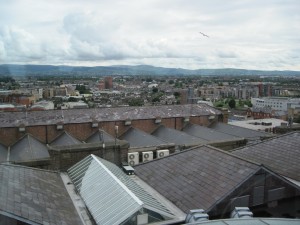 I actually drank Coke. (I did taste some Guinness earlier in the tour but I still don't like it!)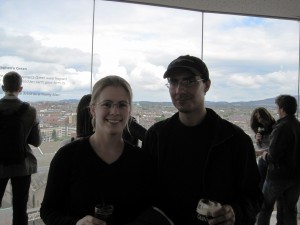 I think we had Thai food near our hotel that night and then camped out on our computers. This trip was rather slow-paced, largely because I can't get David out of bed in the morning!