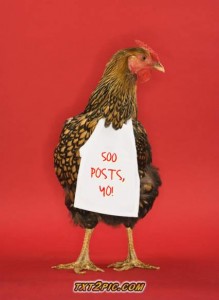 Would you believe I've written FIVE HUNDRED posts? The only interesting thing I found for 500 at Wikipedia is that's about the year when they stopped burying people in catacombs.
I spent four minutes making that stellar chicken picture, too.
Some quick stats: I've had this domain (as website, since blogs weren't invented yet!) for nine years. We had 1104 visitors in the last month. For the top 25 searches coming to my site, there were seven variations on my name. Other notable searches were vegetarian poop, cymbal-playing monkey, paperclips are more useful than, "happy chicken" indianapolis, and baby huts for guinea pigs from pet stores in glasgow. Visitors came from 65 countries, at least since I switched to the new stats service a couple months ago.
STOP THE PRESSES! It's also four years to the day that I started blogging! This deserves another fine piece of art.