It's been a weird week, a combo of sad and reflective and sick of work and then doing ok until someone asks How are your dogs? I had been managing Casper's terminal illness for months, but the last few weeks became more urgent and sad. She went from playing with Walter to having to be syringe fed in a matter of days. There was actually some relief when I made the appointment and spent the day with her last Monday, but counting down the hours and then being unable to explain to Walter where she went was gutting. Then when I finally got myself under control a few days later, I felt guilty for not being a wreck 24/7 and wondered how her life had been shortened by moving her to Ireland and changing her diet and even stuff I did five years ago. Despite knowing it was coming for months, it all seemed to happen so fast. Even cuddling with Walter just doesn't measure up. Casper was my heart dog and he is not and as much as I love him, we don't have that connection.
In the end David and I were with her, and I tried to make that decision when her days were more bad than good, and I know it was the right thing. Still sucks though. We are already remembering her quirks in a happy way, though. I wonder when I will see another doggy love nibble or nosing of the radiator or the fun police again.
I do want to thank everyone who sent kind words here, on Facebook, and through email… I appreciate them very much. Even if I'm a little more animal-focused than most people, I'm comforted that others recognize how important the bond can be (and so many of you are dog people that I know the feeling is understood).
---
Tried to keep ourselves busy the last few days… we went to a surprisingly well-attended concert in the pouring rain last week, Chicago brothers Hypnotic Brass Ensemble who were opened by a Nigerian group. They played at Charles Fort just up from our house. I think most of the people there had bought their expensive tickets ahead of time or they wouldn't have braved the ridiculous weather. We were given free tickets so it was more of an adventure to us! David gave up before I did; we had all our fancy technical rain gear on, but mine's all new and his seems to have lost some of its waterproofness over the years. Rain pants FTW! I love them.
Kinsale in better weather this week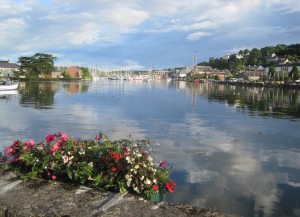 Yesterday the weather was better than at the concert (though not exactly good), and we reattempted a hike in Co. Tipperary in the Galtees to Lake Muskry. We took Walter there a few weeks back and discovered it was mostly through sheep country and dogs aren't allowed. Would have been nice for my fancy Hiking in Ireland book to have mentioned this fact… at least now I know to expect dogs not being allowed just about anywhere we want to trek. He's a good dog but I can see why farmers wouldn't want a dog among their livestock, plus they might shoot him or leave out poison, and that's just not fair to chance.
Anyway, the wind howling through the valley hurt our ears but we trudged through the sheep paths and made our way up a ridge where there was a corrie (lake) suspended in the hills. It was a neat hike and we're glad we went, but we didn't do the whole mountain loop because it was just rather crummy out. The sheep were skittish when we got near and some of them can really run fast! David got to play with his backpacking GPS for the first time. The maps are too expensive but at least it can keep a trail of breadcrumbs running so you know how to get back.