Casper's not having a very good day, but she ate a little and is resting. I'm spending as much time as I can with her. I went on a mission to Cork today to find some supplements for her but I'm striking out so far. I did find an Asian grocery and I think I finally have something similar to the Szechuan sauce I cooked with at home! They also had hot chilies, which are very hard to find here. Irish cuisine is indeed bland. I was at a home improvement store today that had a package of "hot and spicy" seeds to grow at home: mustard greens, spicy lettuce, and three other plants that aren't hot or spicy either. The sixth item was a chili pepper which seems to qualify, but wasn't a hot variety anyway.
Last night was David's band's first gig. They alternated with a couple other guys at the Bulman, a pub down on the water in Summercove, a few blocks from home. One of the other performers was an ass but David seemed to enjoy the event and it was a nice evening out with good music. A friend from home recently arrived to work here for awhile so she and I met up with a couple other expats and drank a lot of beer on empty stomachs (kitchen was closed!).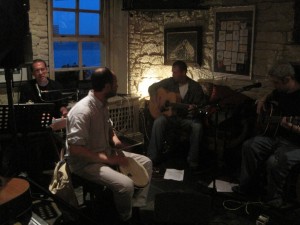 Second full day of wind and rain… everyone at work says "summer is here!" We're hoping for a little better weather tomorrow. It's like a constant mist that comes in all directions at the same time, making it difficult to stay dry. Today was somewhat unusual in that it actually rained hard in a general direction for awhile like at home. Never thunder, though! I heard it once a couple months ago. Instead we get the wind howling down the chimneys.