I started this post several weeks back and thought I'd resurrect it.
All this travel means so many pretty pictures and not enough rants on my blog! That's like going against my own philosophy. I'm afraid I'll become extra boring if I'm not staying true to my roots. Or I'm growing older, I guess.
Pretty much all of these items were posted by US friends on Facebook. Either I don't have enough acquaintances here to be close enough to be pissed off, or Americans really are self-centered and annoying.
home parties
fireworks killing dogs
going to the circus
purpose breeding your dog
hunting
whining about how much you hate moving (not you, TMC!)
right wing insistence on radical Islam's focus
UK TV (it's so American)
I guess I'm done now.
I thought of something else Ireland doesn't have: big bags of potato chips. They only sell big bags full of single-serve bags of potato chips. Useless!
I'm trying to decide if I should do NaBloPoMo this year. I will never post a real post every day but I have a bajillion pictures and could do one a day pretty easily.
Someone at work made fun of me for saying awesome a few weeks back, even mimicking me with an American accent. So I tried not to say it so often (I didn't realize I said it at all), and then our taxi driver made fun of me for saying awesome this weekend in Belfast. I looked it up and have said it 22 times on the blog. That's not too much over four+ years, is it?
Finally feeling better after having a nasty upper respiratory thing last week, though the cough is lingering. I've been frustrated by lack of cold medicine here–all they do is take acetaminophen and suffer. You can get codeine OTC but not cold and flu treatment. I saw empty blister packs for something orange called DayNurse at another sick person's desk and got excited that it might be like DayQuil, but it was just the same pain reliever crap. Anyway, I learned two new words for being sick: dosed and smothered. "Oh, you must be smothered!"
I also heard someone use the term away for slates, which I picked up at corkslang.com but had never heard in person before! It's something like being content or everything's hunky dory (the more common phrase is "happy days").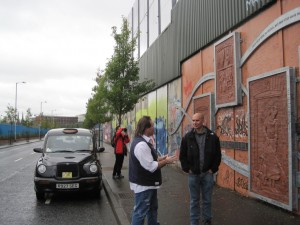 A peace wall in Belfast. Our taxi driver was a little strange and looked like he might have been in Flock of Seagulls. I think he said the walls, gates, and checkpoints are currently scheduled to come down in 18 more years. The gates are still closed at night. I took the name "Peace Wall" to sound rather hopeful, but really I think it's just acknowledging that the only reason there's peace is because of the wall.