Please note:
I don't like The Great Pumpkin or any Peanuts movie or even the comic strip. While I'm not glad the guy died a couple years ago, I was looking forward to the end of Peanuts in the newspaper. It kept going! I'm hoping it will be gone by the time I get back to the US and get a newspaper again. Seeing Peanuts movies on TV makes me want to poke my eyes out. I admit I've started saying 'no dogs allowed' in the Snoopy movie fashion whenever I see a No Dogs sign in a farmer's field here. I've never seen the movie (thank goodness) but David introduced the phrase.
Does everyone knit? Or is it just that everyone who knits has a blog? I swear, every new blog I visit has knitting. I'm not against knitting, and I know my mom and her peeps all love it, but goodness. Maybe we need a revival of scherenschnitte just to be different. (And I can't believe I spelled that correctly! My memory is not fuzzy on some stuff at least!)
Speaking of fuzzy brain, I had a three month wait to see a specialist in Cork last week for that and the tingly arm thing. Everything looks ok, but I have a couple tests coming up to make sure. I'm so sure it's not what he's testing for that I'm not worried, and instead just trying to figure out the insurance. BUT. It will be good to know it's not, and then I can go back to hoping I feel sharp again. It's on and off and frustrating (but much better than this summer at least).
We met a few dogs to maybe be Walt's next companion. I can't get in touch with one rescue for some other dogs, so we may just go back to the first place where the lady is running a nice rescue. I don't have patience for bad websites and mucking around with phones that never get answered. I figure I won't get lied to by a place that makes time for all the fosters, and they know best how well a pup will do at my house. It's really hard to think of choosing any dog who isn't Casper, and none will be, but I'd love for Walt to have a friend by the end of the year.
I do not think the dog sitter should use my hairbrush, so I hid it.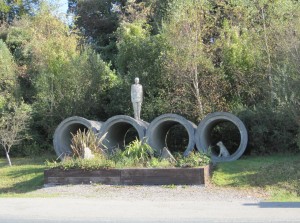 This is a roadside sculpture? installation? just before the next town north, Belgooly. (You have to say it like a creepy Dracula.) I can't figure out why it's there.