It's (Inter)National Blog Posting Month (NaBloPoMo), and I've decided to try it again this year. The goal is a post every day. Since there's not a lot going on right now besides work, it's time to get back to my Spain pictures from a long weekend in early May.
I flew to Málaga, on the Mediterranean (Costa del Sol area), primarily because it was a warm place and a fast, direct flight from Cork! I've always wanted to go to Spain and I'm sure I would have picked Madrid or Barcelona if I'd planned something from the US, but this trip worked out great and was a lot of fun. I had taken enough Spanish as a student that I thought I could get by on my own for a few days.
When I arrived, some English guy asked for help figuring out which train to take into the city, and by the time we arrived he gave me his card and invited me for a drink! I didn't go, but it was rather funny. He coached a university soccer team.
I promptly got lost looking for the hostel I'd booked, but eventually figured out where I was. Initial sights: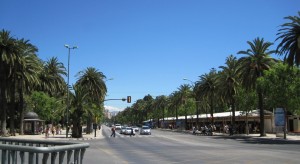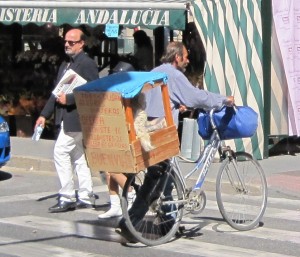 This man had his dog riding in a little covered seat. The sign approximately says:
Toby and Dusan, happy travelers.
Offer: 1 joke, €1
3 jokes, €2
Happiness! Thank you!
Safe travels