Monthly Archives:
December 2010
Not only did Vienna not happen, but Prague didn't either! We went to the airport on Saturday morning and our first flight was delayed four hours (not like they let us know until after we had checked in and the departure times came and went twice), which meant we would miss our connecting flight, which meant we may as well go home and forget it. And that's what we did after I came to terms with no other options except staying overnight in Manchester (for hotel cost) to hopefully get on the next Prague flight Sunday afternoon for an extra couple hundred bucks, which would leave us less than 24 hours in Prague. I lost plenty of money on flights and hotels (which no travel insurance could help, since it doesn't kick in until you are delayed for more than 24 hours), but I think I'm over it. Mostly.
Another weekend in icy Kinsale.
Then I got sick Sunday night anyway and stayed in bed all day Monday, so it was just as well to be stuck at home. Still bitter, though.
I was able to rebook one flight for free but it had to be back from Amsterdam, so that's where we're going next weekend! I hope. It was on our list too, but I'm sad we missed Vienna and Prague.
We took Emmy to the vet tonight and she has protein in her urine. PRAY it's not her kidneys!! Waiting on bloodwork now.
Now nursing my white-spotted throat with fake Nyquil from the States! hooray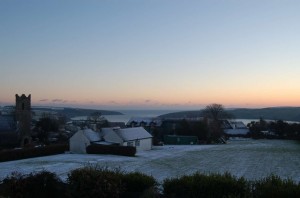 The lovely snow and winter harbor from our balcony
We were supposed to fly to Vienna today, but London Gatwick is closed due to snow so our flights were canceled and I went to work instead. Bummer! We're trying to salvage the second half of the trip by flying on Saturday to Prague, but who knows what the weather will be doing. Let's hope whatever it's doing it won't do it in Manchester.
Emmy stole a tub of butter tonight. Two nights ago she swiped a roll of paper towels and thoroughly enjoyed unrolling and tearing the sheets. Yesterday was her third birthday and I don't think she stole anything!