Wow, that was a long unplanned blog break!
I am back in the United States. My year in Ireland turned out to be a year all over the place! Actually, looking at my complicated tax calendar: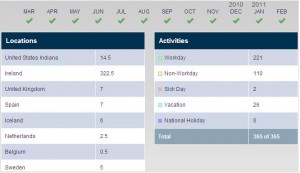 I would definitely do it all again, but of course there were some low points too. I think those would have happened at home anyway so it doesn't change my opinion of being abroad nor make me any less thankful (especially to my employer) for the experience.
I hadn't been feeling well for a couple of months again beginning around Christmas. I guess I'll attribute to that malaise why I haven't been posting here, and I definitely feel better now after a bit of medical intervention in the midst of a lot of overwhelming stuff (largely managing a very demanding job with a lot of hours while trying not to be overwhelmed by another international move!). I've been home since early March and just now feel somewhat settled. We still have a lot of things to unpack and we haven't properly restocked the pantry, but I'd say things are getting back to normal.
I still hope to catch up here on the missed travels, including Sweden, Tenerife, Amsterdam, Belgium, and around the rest of Ireland. I have lots more pictures to share.
Ms. Vegas bunny passed away less than a week before I got home, which was very sad. My other pets have come home now, including Arliss bunny with her much younger boyfriend (everyone is much younger when you're an 11 year old bunny, it seems), the guinea pigs, and the frog. The dogs made it back ok and don't seem to care where they live as long as we are with them.
Here's to catching up!