Updated picture 06 Oct 11: have been back to the vet a couple times. Still up in the air about surgery but as it opens I am finding it harder to feel like I'm helping him (and experiencing a weak stomach too). He's not eating anything but greens so several times a day I am syringing food and several medicines. I worry about hurting him, though at least he's getting around better now. I wish he would eat.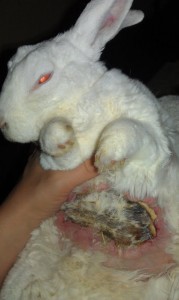 Also last night my little piggy buddy Frisco died. He's been sick a long time but had a lot of good days. He passed relatively peacefully on a day when he woke up squeaky and enjoyed his greens.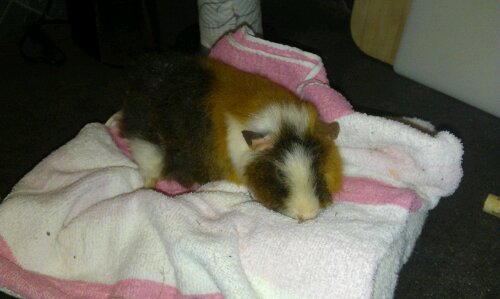 I think this might be the first time in twenty years I didn't have a guinea pig.
——————————————
02 Oct 11
Poor Clover (Arliss' buddy) was in the hospital two weeks ago for bladder sludge (minerals in the urine that accumulate as crystals and cause him to "pee sand") and then last week went in for this horrible bruise thing on his belly that has turned into dead tissue. I'm mostly posting it so I can link to it from another bunny list to get some opinions, but please keep him in your thoughts because it looks like he'll need surgery this week to excise the necrotic portion. 🙁 Also he is barely eating, poor little guy.