I think I'm a day or two late but happy birthday to Grandma! Grandpa loads my blog in the morning and prints new posts for her, so I hope she'll see it. I'll post this picture of us from not too long ago, where she complained about my hair hygiene and made us laugh.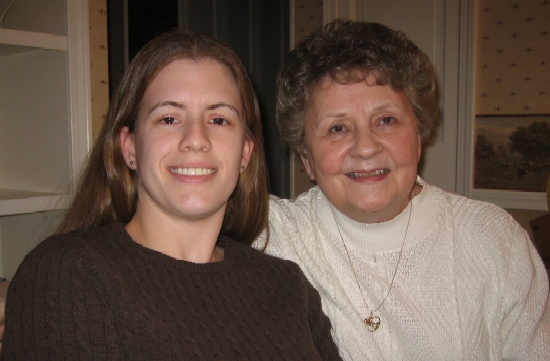 I shared that story with my 15 year old cousin after she posted on Facebook that she was recently at Old Country Buffet with Grandma, who told her her haircut was the ugliest one she'd ever seen. I love it! Grandma tells it like it is.
It was always fun to spend the night at Grandma and Grandpa's house. You got ice cream and sugar cereal and hamburgers and trips to the mall and painting parties and a cool dog. We videotaped ourselves lip-syncing and dancing and dressing up. Then we'd make her pictures crooked just to hear her holler.
And who can forget this picture I posted on my website over ten years ago: she came all the way out to Massachusetts to see me in college (or maybe it was for graduation?) and, well…

We all raise our glasses to you, Grandma!